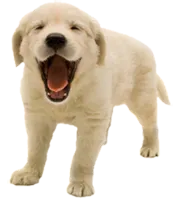 Our emphasis is on preventative care. This includes annual examinations, vaccinations, heartworm test, fecal analysis, flea/tick preventatives, and heartworm preventative. Your pet's annual vet check-up will include a complete physical exam. This is an excellent time to share any of your concerns and ask any questions you may have.
Puppies and kittens should start seeing a veterinarian around 8 weeks of age. A series of vaccinations are necessary every 3 weeks until 4 months of age to provide adequate protection against a variety of diseases. Routine dewormings will also be initiated along with a fecal exam. Kittens need to be tested for feline leukemia and feline immunodeficiency virus (FIV). Puppies will be started on heartworm preventative before their last visit. Spaying and neutering is also recommended between 4-6 months of age.
As your pet ages, your veterinarian may recommend a series of blood tests to evaluate your pets overall health. Even seemingly healthy animals may have serious hidden illnesses. The earlier these illnesses are detected, the better we are able to treat them. Periodic dental cleanings under a general anesthetic may also be recommended. Like you, your pet can lose his teeth due to decay and neglect.
We do offer hospitialization of ill and injured patients. Critical patients will be referred to a 24 hour emergency/critical care facility.
Your veterinarian may refer you to a specialist to make sure your pet receives the best care available. Specialist are veterinarians who complete advanced studies and are board certifiied in special areas. We are lucky to have specialists in internal medicine, surgery, dermatology, ophthalmology, dentistry, and critical care within an hour drive.